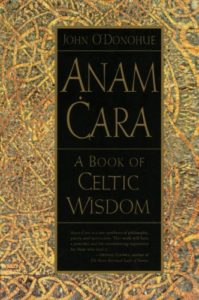 Dr. Robert Murney, my long time mentor, was the first person to introduce me to Anam Cara. It was during a time when his wife had been diagnosed with cancer and he was trying to prepare for the possibility of losing her. He showed it to me one day and said this was the only book he had ever read seven times. The book intrigued me for two reason. First, it had such an incredible grip on Dr. Murney. But also because as he described the book it just seemed filled with existential wisdom. I quickly purchased the book and devoured it in a couple of days. It remains one of the most profoundly intriguing books I've ever read. Not more than a year later, we were joking that we should be getting a commission for all the copies of this book that we gave away as gifts or that were sold upon our encouragement.
John O'Donohue is a Catholic priest living in Ireland. However, his writing has not always been very well accepted within the Catholic community. This is partially because it is rooted as much in Irish paganism as it is in Catholicism. This is an issue which O'Donohue addresses in Anam Cara. When Christianity entered Ireland, it was blended with folk wisdom and religion, just as has occurred in many other parts of the world. It is this rich blending of traditions that brings this little book to life.
"Anam Cara" literally means "soul friend." This is comparable to what is often referred to as "soul mates." Unfortunately, the concept of soul mates has often been degraded by superficial, romantic views of what it means to be soul mates. The view presented in Anam Cara, however, is far from shallow or superficial. For O'Donohue, an Anam Cara is someone who deeply impacts who we are as a person. It's more than finding someone to marry or even someone to spend your life with. It's more than a best friend. It's someone who becomes a part of you.
O'Donohue's version of a soul mate interacts with many ideas not considered in the more traditional literature. For example, he views time apart and death as two extremely important aspects of being a soul friend. It is death, that makes life and our relationships so precious. It is time apart, or solitude, that allows us to invest deeply into our immediate relationships. These harsh realities are part of the beauty of relationships.
Anam Cara has been a great lesson for me as a therapist, but even more it has been a great lesson for me as a human being. Dr. Murney, who introduced me to this book passed away several months before I sat down to write this review. In his death, I realize the preciousness of his life and friendship. I think he'd be happy to know that in his death I think of this book and that it has been a comfort to me in my grieving for him.
The lessons in this book are very much alive. It is an important read for all those in the professions which deal with the soul and relationships.
Original Version added February, 2006
Never updated