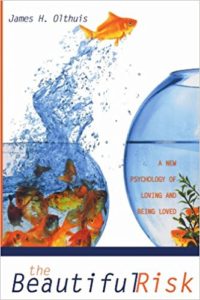 James Olthuis is an impressive therapist and writer. I was first introduced to this book when attending a presentation on Olthuis's approach to therapy. I was so struck by the deep compassion and love that was evident in his presence. When providing a therapy demonstration, it was evident that Olthuis is truly gifted in his ability to connect with people and recognize their suffering.
This book is an excellent book, but does not replace the power of attending one of Dr. Olthuis's workshops. While Olthuis does not consider himself an existential therapist, the similarities abound in his relational approach which he describes as being strongly influenced by relational theory, feminism, and postmodernism. An important point of convergence between Olthuis and existential thought is in the valuing of the relationship. He demonstrates the power availed through a compassionate relationship between therapist and client. Some of the most powerful illustration in this book are the times when Olthuis talks about the power of crying with his "therapeuts."
A central theme throughout this book is love. For Olthuis, the basis of this is his spiritual beliefs and convictions. The Beautiful Risk, in embracing this relational perspective, the concept of love, and spirituality provides a great example of a high quality integrative perspective. Yet, it is still a good read for those not interested in the more spiritual approach.
I highly recommend this book for therapists and those seeking to become a therapist, especially those who feel stifled by many of the ways therapy is practiced in today's society.
Added 2004; Never been updated.