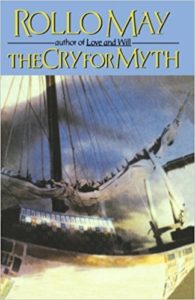 In all the significant books written by Rollo May, this is the book which has had the greatest impact upon me and my thinking. The breadth of May's knowledge and the depth of his understanding quickly become very evident. It is also interesting to note the influence of Jung's theory in this book. While Jung's influence is apparent in many of May's works, perhaps none as much as this volume.
In the first section of the book, May provides an outstanding overview of the concept of myth from an existential framework. May defines myth in a very Tillichian (Paul Tillich) fashion as that which cannot be proved, but yet is believed. However, in stating it cannot be proved it is not claiming that myths are false. In one of the most powerful lines in the book, May states: "There can be no stronger proof of the impoverishment of our contemporary culture than the popular – though profoundly mistaken – definition of myth as falsehood" (p. 23).
 In the next several sections, May applies this to many of the great myths of our society. Part II examines "Myths in America." Included in this analysis are Gatsby and the American Dream, the American frontier myths, individualism, and narcissism. Part III expands to include the "Myths of the Western World." In this section May examines Dante's journey through hell, Peer Gynt, the Briar Rose, three views on Faust, and the devil & creativity. The final section, Part IV, closes with a discussion of "Myths for Survival." Included are the issues of women's liberation, mortality, planetism, and humanism.
Whether a psychotherapist or just interested in existential perspectives, this is an excellent book.
Added 2004; Never been updated.